Last Wednesday, April 19, Enrico Cresta —organic farmer member of Bioleft— visited the Semi Rurali network at its headquarters "Casa dell'Agrobiodiversità" located in Firenze, Italy. It is a second level association, made up of 34 organizations, that promotes the dynamic and collective management of agricultural diversity for an ecological transition of the economic and productive model.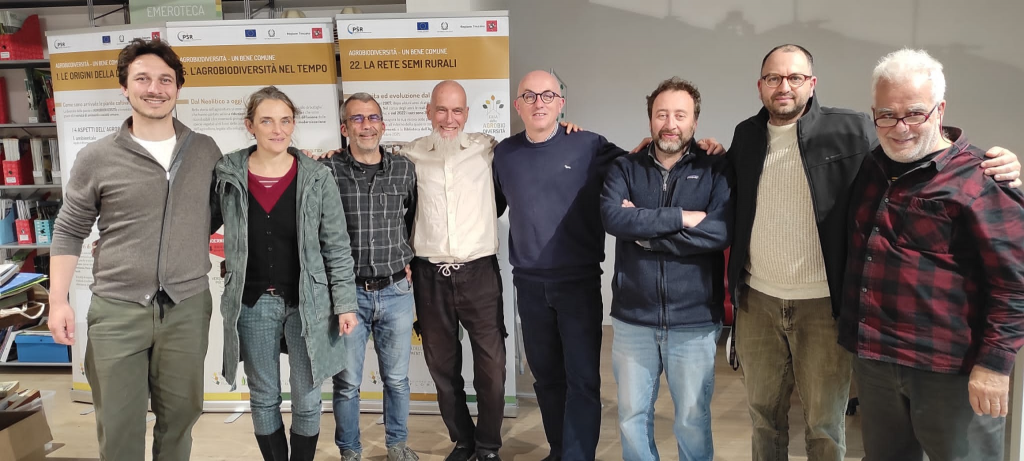 During the meeting, the commonalities between the visions and objectives of both parties were evident. Semi rurali facilitates and promotes contact, dialogue, exchange and sharing of information and initiatives to achieve a diversification of agricultural systems, from seeds to diets, passing through the transformation and distribution of food. Like Bioleft, they recognize farmers as central actors responsible for the management, conservation, and creation of genetic diversity in agriculture since ancient times, and for this reason they work under a research-action-participation approach that seeks to return research to the field involving not only them but also various other actors; they work to build community, promoting interaction between multiple actors among those who maintain community seed houses and collaborate in plant breeding aimed at obtaining suitable populations or varieties for sustainable agriculture, among other activities. Enrico shared the work that we have been carrying out together with him, other maize farmer-breeders and researchers, and the need to focus efforts on obtaining non-GMO materials that can be adopted by sustainable agriculture —such as organic, agroecological or biodynamic—was a topic of common agreement and highly relevant for both contexts.
Moreover, both the Semi Rurali network and Bioleft are part of the Global Coalition of Open Seed Initiatives (GOSSI), where they collaborate to create an open access system for seeds, guaranteeing their current and future availability. In July, the Coalition will hold the first face-to-face meeting of all its member organizations, where we will continue working on the themes shared by Enrico and the group from Italy.
We thank Semi rurali for having received us with such warmth and we hope that the intentions planted in this meeting will sprout in new possible forms of collaboration.