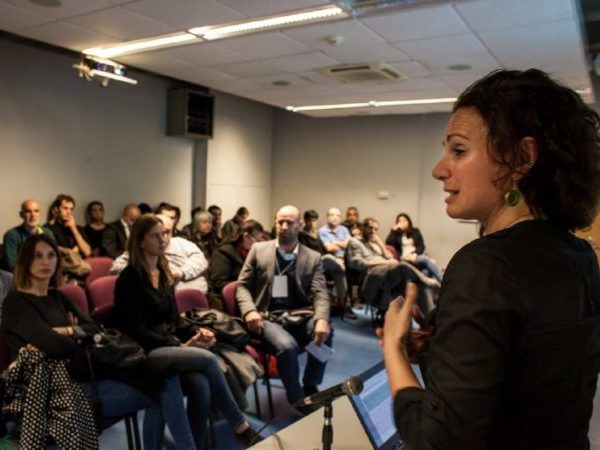 Can seeds be thought of as a common good? How to work with this guiding principle in daily agricultural practice?
On Wednesday the 15th, Anabel Marín presented the Bioleft project within the framework of Comunes (Commons) International Meeting, on behalf of an interdisciplinary team of members of CENIT Foundation/UNSAM, University of Buenos Aires and CONICET. It was at the Centro Cultural de la Cooperación, in the heart of the city of Buenos Aires. 50 people interested in free and collaborative culture followed attentivey the presentation.
It is the first time that Bioleft shows its open seeds initiative to a non-specialized on agricultural issues audience. For this reason, the presentation highlighted the potential of Bioleft to foster collaborative improvement and open testing networks, taken as tools for development, and the relevance of seeds in terms of food and technological sovereignty. Among the public were lawyers with experience in intellectual property issues, activists of free culture, members of Creative Commons Argentina, free software developers and specialized press.
The time was not enough to answer the avalanche of questions. In particular, the strengthening of relations with and among those who use the Bioleft system and the importance of establishing measures to achieve compliance with agreements were highlighted as key points. It was also asked with concern about the policies regarding large seed companies.
Gustavo Schrauf, professor of Genetics at the University of Buenos Aires, told the story of the first transfer Bioleft: seeds melilotus albus that were recently delivered to authorities of the Federation of Nuclear Organizations of Family Farming (FONAF) and the Organization of the Nations and Indigenous Peoples of Argentina (ONPIA).
Anabel Marín highlighted that the project is in the embryonic stage, and that each contribution and comment makes it grow. The audience showed great expectations for knowing the Bioleft platform, and also for disseminating it.